Dr Julie (PhD)
Family nutrition & wellbeing expert, researcher, author, speaker and mother of three boys.
Internationally renowned, with a PhD in children's health, Dr Julie is on a mission tackle the global health concerns affecting our families today - by nourishing children and parents, with evidence-based advice that is practical and realistic for the demands of modern parenting.
"My dream is for our children, and our children's, children, to grow up in a world where the presence of lifestyle disease not only declines but, no longer exists."
On her website you will find published books, helpful feeding products, her food range (Dr Julie's Kitchen), upcoming event details, free blogs and recipes, plus where to book for individualised advice. 

Click below to see how Dr Julie can help you during each stage of your parenting journey.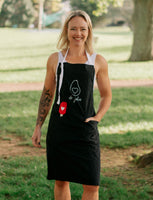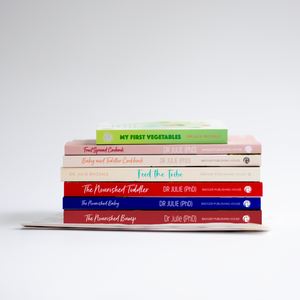 Dr Julie's Books
Dr Julie's best selling book The Nourished Baby, has helped thousands of parents introduce their baby to solid food. 
She has the unique ability to make the latest scientific peer-reviewed research simple and easy to understand and offer practical suggestions to help feed our families. 
Dr Julie has created a total of eleven books on baby and toddler feeding, conception & pregnancy, postpartum recovery, a children's board book and several cookbooks packed with easy, nutritious meals. 
Her books are available world wide in both hard copy, kindle version and audio format (narrated by Dr Julie herself).
View Dr Julie's Books
Dr Julie's Kitchen
Real Food - Nourishing Communities - Striving For Zero Waste
Taking on the food industry!
The food industry has for many years prioritsed profit over people and our planet. While homemade food is always the best nutritionally, it is not always possible given the demands of our modern lifestyle.
Now more than ever we need food products we can trust. Here at Dr Julie's Kitchen our mission is to bridge this gap to help ease the everyday pressures we all face. 
All created by Dr Julie herself (she is even in the kitchen too) is a range of healthy food products that you can trust have her nutritional seal of approval in packaging that is environmentaly friendly.
Shop Dr Julie's Kitchen
Consultations & Coffee Group Presentations
Dr Julie provides essential 1:1 advice and support in all areas of family nutrition and wellbeing from starting solids, fussy toddlers, allergies, constipation, pregnancy and postpartum recovery - plus much more.
All consultations are offered virtually via zoom to easily accommodate for COVID requirements and accessibility outside of Auckland where Dr Julie is based.
Coffee group presentations are being offered in Auckland (book here) or in 'coffee-group runs' in all New Zealand cities and Australia - see events page for upcoming slots and city tours.
Book Online Now
Free 7 Day Course - Starting Solids
Introducing solid food to your baby is a big milestone in the first year. There is currently a lot of confusing and conflicting advice on just how to start off your baby on real food. I am here to help!
In this seven-day mini course I will give key pointers on some of the big aspects of introducing solids.
Sign Up
Media Coverage
Dr Julie regularly features as a guest expert on Paul Henry, Breakfast and in the New Zealand Herald to discuss such hard-hitting topics as childhood obesity, body image, the pressures of breastfeeding and children's free play. She has also appeared live on Seven Sharp, Sunrise and 9 News in Australia, RTL in Germany and The Lorraine Show in the UK. In 2015, her personal postpartum story went viral and appeared in publications including the Huffington Post, The Independent, Woman's Day, The Daily Mirror, The Daily Mail, Buzzfeed and a host of other websites and parenting blogs.