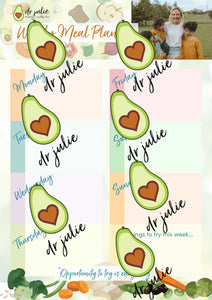 My newly updated meal planner - to focus on the most important part (dinner) and encourage exposure for little toddlers in a way they can be involved without pressure or bribes. 
Planning Made Easy
The magnetic meal planner is your ultimate tool to help plan out your family meals for the week. I have focused on space for dinner as once this is sorted the rest of the week falls into place without it feel overwhelming in the planning stage. 
Opportunity to Try
To help guide toddlers repeated exposure to new foods there is a special space to write what foods are 'trying' foods for the week - with a little quote of mine to help this process too!
Reusable
This planner can be used again and again simply wipe with a soft cloth (baby wipes are awesome here) and you are ready to go again!
Magnetic
No more blue tack, cellotape or finding fridge magnets to hold your planner up the four strong magnetic strips will hold this meal planner without scratching your fridge and are easy to move.
Perfect Size - Same as starting solids guide!
The planner is custom made to the same size as your starting solids guide so they can sit side-by-side. 

See bundle deal for both guide and planner together (and get a discount too).